In recent years, bidding wars have become increasingly common in the real estate market. This is most likely because the demand for housing has never been higher, and there are simply too many people looking for property. When more and more people are starting to enter the real estate market, they are more willing to go to extreme lengths to secure property. This has led to bidding wars, in which multiple buyers compete against each other to negotiate with the seller and "win" the property.

In a bidding war, buyers will often attempt to outbid each other, driving up the property's price. This can be extremely stressful for all involved, making it difficult to know when to stop bidding. In most cases, buyers will end up paying more than the listed price to secure the property, which is often more than the home's actual value.

If you're looking at real estate, such as Downtown Austin homes for sale, recognizing a bidding war is important before getting involved. This can help buyers make an informed decision about whether or not to enter the bidding process. That way, you can avoid getting caught up in a frenzy or prepare to enter the bidding war with a strong offer in hand and a solid understanding of the high stakes. Here are some early signs of a bidding war to help you out.
The home price is below market value

One of the first signs that there might be a bidding war on the horizon is when the listing price is below market value. This can be a red flag that the sellers are motivated to create a bidding war and looking for a quick sale. If multiple offers are on the table, the selling price will likely go up, so buyers need to be prepared to pay more than the asking price. In a hot market like Downtown Austin, it is not uncommon for properties to sell above the asking price.

When considering the list price, it is important to look at the selling context. When a home in a premier location near upscale amenities in excellent condition is listed for a lower price than comparable homes in the area, it can be a sign of an impending bidding war. Buyers are naturally attracted to homes that are priced competitively low because they feel they are getting a quality deal, when in reality, they will likely have to fight for the home with increasing offers. Sellers want to hook buyers with a low list price to drive up the price during multiple negotiations and create a frenzy.
A "coming soon" listing

In some cases, a home will be listed as "coming soon" before it is actually on the market. Sellers can use this tactic to generate interest and start a bidding war. Buyers must be aware of this tactic and be prepared to make an offer as soon as the property is listed or avoid an emotional attachment to the property if they cannot financially sustain the bidding war.

In a hot market, homes are often under contract within just days of being listed, so buyers need to be ready to move quickly. Buyers may be able to view the property from the exterior or get a sneak peek, but it is not yet available to tour or make offers. This strategy generates interest in a property because buyers have time to compare it to other homes for sale and weigh out their options. When the home is finally listed, buyers are ready to make an offer more quickly, creating higher demand and a potential bidding war.
Deferring the open house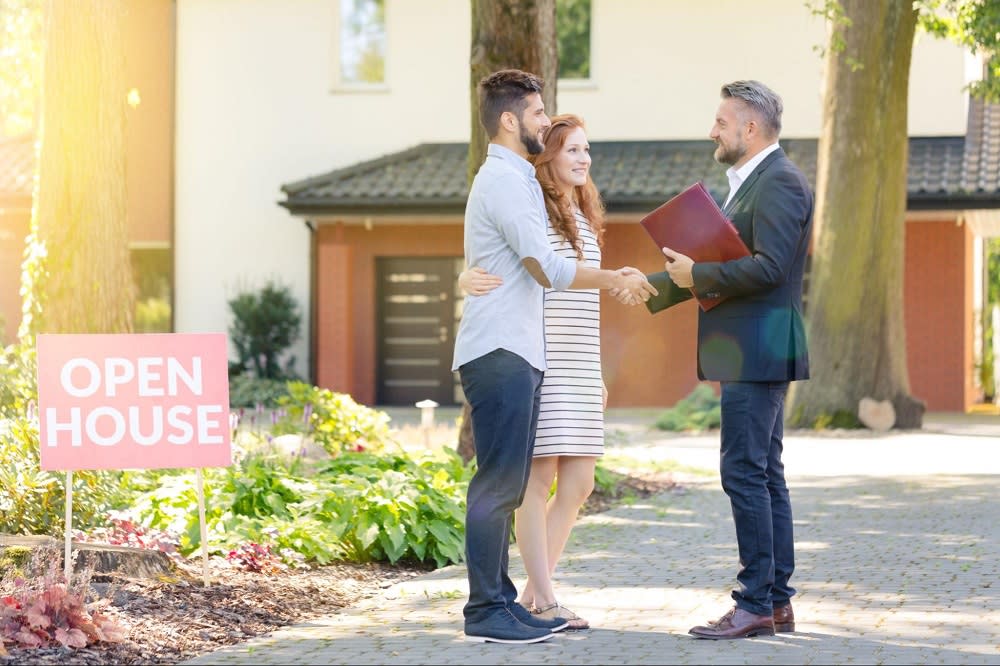 Photo courtesy of Shutterstock

Another tactic similar to the "coming soon" listing strategy is deferring the open house. By not holding an open house right away, sellers limit the number of potential buyers who can see the property. This can create a sense of urgency for buyers interested in the property.

In these cases, buyers may sometimes even make an offer without seeing the property in person. Deferring showings and open houses for a week or so after listing can stir interest in a property and create a situation where many potential buyers view the property all at once and make offers around the same time. This can often be an effective tactic, as buyers interested in the property will feel like they need to make an offer quickly before someone else does. And then, the bidding war will begin once the seller has multiple offers in hand all at once.
Offer deadline

One way that sellers create a potential bidding war is by setting an offer deadline. This is when the seller will only entertain offers until a specific date and time. This creates a timeline for buyers who might otherwise take their time making an offer. An offer deadline creates urgency among buyers, and they are more likely to make a strong offer above the asking price because they know they are competing against other offers. Buyers need to be aware of this tactic so they can have realistic expectations of the process and outcomes.
Market conditions

Market conditions are one of the main drivers of bidding wars. When there is more demand than inventory, it creates a seller's market. This can lead to many buyers competing for the same property, often resulting in a bidding war. Buyers should be aware of market conditions and be prepared to make an offer quickly when they find Downtown Austin homes for sale.

While many bidding wars can be stimulated by selling strategies, market conditions can cause bidding wars on homes priced appropriately just because there are not enough available homes on the market.
Working with a top-notch real estate agent can help buyers catch early signs of bidding wars and avoid inflated prices and complex situations.
The Boutros Group
is a skilled Austin, Texas, real estate team specializing in thriving
communities
like Downtown Austin. Work with one of their exceptional agents to stay ahead of the competition.

*Header photo courtesy of Shutterstock